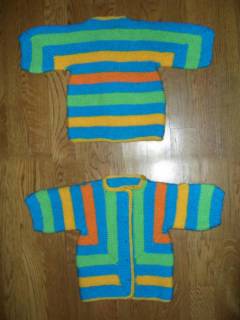 Surprise!
I finished it last night. Pretty cool, huh?
Above (in the Almost Done post) is a picture of the Baby Surprise not too long before I finished it. It's still on the needles in that picture because I had to sew the shoulder seams before I could do the yellow I-Cord around the neck, fronts and bottom edges.
This sweater was knit with Lion Brand Microspun yarn, in Turquoise, Lime, Buttercup and Mango on size 6 needles. It is for our nephew and his wife who are expecting their first baby soon. Shower is Labor Day weekend (how appropriate!) The gender of the baby is unknown. I'm hoping these colors are unisex enough for them!

The pattern is an Elizabeth Zimmermann original, available from
Schoolhouse Press
. There is also an adult version, which I hope to someday knit for myself.