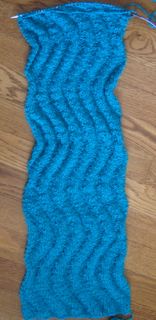 I started knitting Wavy (
pattern here
, Easy to follow graph
here
) Wednesday evening and continued on at our Borders knitting group on Thursday. I love how this is turning out. The jog where it changes directions bothers me a little but I think with careful blocking it will look less broken.
This scarf is soft and luxurious. The yarn is 100% silk, and I'd call it a boucle though it's not terribly nubby. The yarn used to be a short sleeved sweater that I found at a thrift store for $2 or $3. I did a google search and found 100% silk boucle yarn selling for $38 for 3.5 oz. At that price, I figure I have about $130 worth of yarn here. Woo hoo! Definitely worth the effort of unraveling. I thought when I started knitting Wavy that it would be a nice Christmas gift for someone, but now I'm wondering if I'll be able to part with it. Maybe this one is for ME!
I have a long way to go. This pattern calls for 10 repeats of 44 rows. So far I am through 4 of the 10 repeats. I may end up making it a little bit shorter, and possibly adding a ruffle to the bottom edge. I haven't quite decided yet.