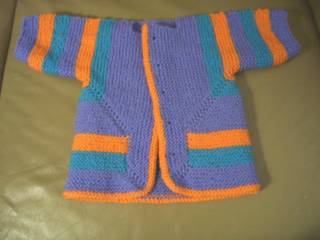 Store Sample

I knit this Baby Surprise in 2 days! It was some intensive knitting ...thank goodness the kids had gone back to school and I could just sit and knit. And because this is the store sample to advertise the class I am teaching, I could tell hubby "I'm working" and he couldn't complain about the dust bunnies or the frozen pizza we had for dinner.

I am leaving the seams open when I deliver it to the store this morning. That way customers can play with it and see if they can get it to fold into a sweater. I also didn't do anything with the neckline, because I will use it to show some options during the class. Either a simple crochet edge, a knit-on collar or hood, etc.

Oh, and speaking of classes, I am now going to be teaching a class for the felted clogs too, starting in November. Since I've knit 13 of them already, I think I will feel very comfortable doing that class. Plus I'll have already taught the Baby Surprise classes by that point and will have that experience under my belt. I'm still kind of nervous, but SO excited to have this opportunity!

By the way, this one was knit with Shepherd Colour 4 Me 8 ply washable wool. I used 4 skeins total...each one was 90m/50gr. Size 6 needles. The sweater is approximately 19" around the body when overlapped to button, or if it is going to be butted together, it would be about 20-1/2" around.